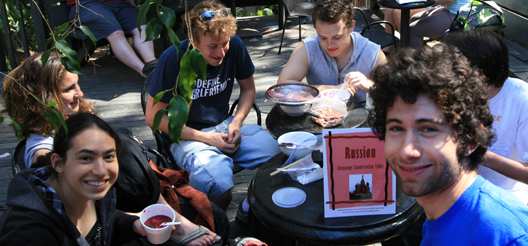 Language Tables
The Language Conversation Tables are one of International House's most popular programs. Each quarter, students host a variety of languages for UC San Diego students, staff, faculty, and community members to learn and practice another language in a fun and casual environment.
Language Table Schedule
FAQ
The 
Language
Tables
 are one of International House's most popular programs. Each quarter a variety of 
language
tables
 are hosted and attended by students, staff, faculty, and anyone from the public willing to join. 
Language
Tables
 provide the chance to teach and learn a 
language
 in a natural environment, through conversation with someone who is fluent in that 
language
. They take place weekly or once every three weeks.
As host you get to choose which language to teach, where and when you want to teach it. It is a very casual and fun and it gives you a chance to pass on your language or help you brush up on your language skills. Your responsibilities are simple: just turn up on time each week, sign people in and have FUN!
Right here: 
http://g.co/maps/6w7be
on the ground floor just between Katmandu and Cuzco in the International House.
Tables usually start in Week 2 and run until Week 10, but always check the schedule above for the most up to date information.
Can you speak a language fluently/strongly? - Then host a table!
Do you want to learn a new language or practice an old one? - Then attend a table!

Check out the schedule above to find the tables. 
Language Tables only happen from weeks 2-10 during Fall, Winter and Spring quarter. Outside of those times the schedule will be empty. If it is week 2 and the schedule is still empty, be patient, the tables are probably just being finalized and will be updated by the end of the week.